Where can I buy Imiquimod cream online?
Imiquimod cream has many uses, including the treatment of genital warts. Genital warts are a sexually transmitted infection – also known as an STI – which can be contracted from penetrative or oral sex, and they usually take the form of painless lumps around your genitals or anus. Genital warts are caused by a viral skin infection known as the human papilloma virus (HPV), which is a group of over 100 viruses that can affect different parts of the body. In most cases, genital warts are caused by two specific types of HPV, which aren't linked to genital or cervical cancer.
While there's no cure for genital warts, when properly treated, the body can keep them under control. Unfortunately, there can still be a stigma around conditions such as STIs, which is why some people choose to look for genital wart treatments online.
How imiquimod cream works
When you apply imiquimod cream, it causes inflammation to your skin, which encourages your body's immune system to release chemicals called cytokines. This means that your body begins to fight the infection over time. Unfortunately, it also means the area in which it's applied will become red and sore, which usually settles within two weeks. It's also common to notice side effects such as cracked, peeling or weeping skin, and while this is normal, if it becomes unbearably uncomfortable you may need to speak to your doctor.
While imiquimod cream has been shown to be effective in treating outbreaks of genital warts, it's not a cure for the condition. However, it can help outbreaks of warts go away faster. If left untreated, genital warts can eventually go away on their own, which can take up to two years, but the outbreak can also get worse, which is why many people choose to buy imiquimod cream online to manage the infection.
Using imiquimod cream
Imiquimod cream is usually applied at night and washed off when you wake in the morning. You apply a small amount to the clean, dried area, leaving a margin of about 1cm around the warts onto the healthy skin. This ensures that the affected area is well covered.
If possible, the area should be left uncovered once the cream is applied, and no creams or moisturisers should be used. You can use a mild moisturiser eight hours after application, or in the weeks after treatment, but ensure there's nothing left on your skin when you reapply imiquimod cream. Once you've applied the cream, you should wash your hands thoroughly.
Your doctor will tell you how long you need to keep applying the cream, and this will allow you to look for the right amount of imiquimod cream to buy. They'll usually recommend applications three times a week, allowing for days off in-between to allow your skin to recover. Imiquimod cream comes in small sachets for easy application.
Imiquimod cream can take several weeks to work, and according to the British Association of Dermatologists, it's not effective in all cases of genital warts, but has a higher success rate than other treatments.
Imiquimod cream side effects
Imiquimod cream is designed to create inflammation, so localised swelling and redness can simply mean that it's working. The area where it's applied can change colour, flake, scab or crust over. Some users also notice that they develop cold symptoms such as sneezing, fatigue, a sore throat or congestion. If these side effects become more serious, it's worth speaking to your prescribing doctor about your concerns.
While you are using imiquimod cream, you should avoid direct sunlight or the use of tanning beds, as it can make your skin more vulnerable to sunburn. It's also important to avoid unprotected sex, as you could pass on genital warts to others, and are also at risk of other STIs.
Imiquimod cream, buy online
Buying imiquimod cream online can be a good option for those who are embarrassed to speak to their doctor. Prescription Doctor offers a confidential, discreet service with prescriptions sent to your door in plain packaging.
When you submit your details online, it's important to ensure you let us know about any other medications you're taking, as this may mean imiquimod cream is unsuitable for you. We'll be happy to make suggestions based on your needs if this is the case. Imiquimod cream may not be suitable for pregnant or breastfeeding women, and only small studies have been carried out, so if you are pregnant or trying to conceive, be sure to let your doctor know.
If you are suffering from genital warts, then imiquimod cream may be helpful in treating external warts. Simply click 'Quick Checkout' and fill in our simple questions, so we can assess whether it's the right choice for you. Your prescription will be dispensed by qualified, experienced pharmacists, and delivered quickly to your home.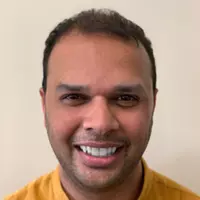 This content has been written and checked for quality and accuracy by
Mohamed Imran Lakhi
Content Administrator
Published on: 03/09/2019
Updated on: 03/09/2019