Are Face Masks Effective Against Covid-19?
With new information coming out all the time as to what the 'new normal' is going to be like for the public once lockdown is over, it is perhaps the subject of face masks which garners the most attention, resulting in an influx of information – and disinformation – relating to their effectiveness for those with or without symptoms.
Should we wear them when we leave the house? Are they actually effective at protecting us from developing coronavirus? Can they prevent the spread of the disease to others? This late point is always going to be the most important; the sooner the virus can be stopped, the sooner normality can be resumed.
There is a major debate as to the effectiveness of face masks and surgical masks, including home-made ones that the Center for Disease Control and Prevention seems to be recommending, with some saying that the masks are ineffective and others suggesting that they can prevent someone who has the disease (perhaps without knowing about it) from infecting someone else. Thus, the virus will not be able to jump from person to person quite so easily, and the infection rate will reduce.
The transport secretary, Rt Hon Grant Shnapps, announced that face coverings will be compulsory on public transport from the 15th of June. Face masks have further been recommended for enclosed spaces where social distancing measures may be harder to adhere to, such as small shops.
What are face masks and what are they used for?
surgical masks are more prominent in hospitals and other care-giving environments. People who work in nail salons may also wear face masks to prevent them from breathing in vapours emitted by the glues and varnishes they use.
Of course, there are other applications for face masks, such as:
Using aerosol adhesives, varnishes or paint
Cleaning with strong chemicals (bleach)
Cutting or sanding wood and metal
Handling fibrous materials (fibreglass)
Preventing hay fever symptoms when gardening
These uses don't necessarily need to be in a professional setting. For example, if you are working on a restoration project - whether it be restoring a car or a piece of antique furniture - you could benefit from wearing a face mask to protect you against dust particles, shavings, chemical vapours and other harmful substances.
In mainland China and Hong-Kong, face masks are a common sight due to the high levels of pollution. In fact, China contributes to almost 30% of global CO2 emissions - almost double the rate of carbon emissions from the United States. These high levels of pollution have detrimentally impacted their air quality. To combat this, many citizens cover their faces with a scarf or a face mask to protect themselves. So for people living in and around China, face masks are just another facet of their daily lives.
Recently, face masks have become an increasingly common sight due to the Covid-19 pandemic. People all over the world have been donning surgical masks or respirators to protect themselves from contracting or spreading the infection. In the UK, many people have resorted to wearing face masks when out shopping, exercising or travelling to and from work. Unlike people living in China, British citizens are not accustomed to wearing face masks and this new requirement may seem a little confusing or daunting, due to the different types of face mask available and the ever-changing information which keeps emerging regarding their efficacy against the virus.
What is the best face mask?
Essentially, which mask is best for you entirely depends on your use case.
It is also vital that you purchase the correct mask for you. Some, such as standard surgical masks, or home-made fabric versions, may not be as effective against viruses or chemical vapours. They are too loose which means there is potential for 'leakage' around the edges. Although surgical face masks can protect against larger airborne droplets, smaller particles – just like the ones that can infect an individual with COVID-19 – are able to pass through the fabric and enter your airways.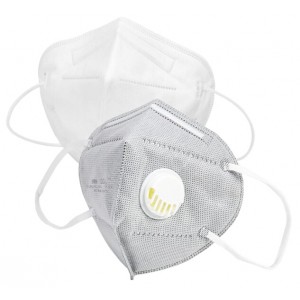 N95 face masks
The best mask to use is the N95 or similar. These masks fit much more snugly against the face, producing a less permeable seal, and although they may not be as comfortable as home-made masks or the looser fitting ones, they do cover the face more effectively and offer much more protection. Not only this, but they are able to withstand both large and small particles and droplets. These masks filter out approximately 95 percent of airborne particles, hence the rating of N95.
Surgical masks
While surgical masks may not offer as much protection, they still offer more protection than not wearing a face mask at all. When combined with social distancing, a surgical face mask can drastically reduce the risk of passing or catching an infection when either person coughs or sneezes.
Home-made face mask
The CDC and UK government have not ruled out the use of home-made face masks. While they may not provide the same protection as an N95 face mask, they are still better than nothing and can be more comfortable and affordable. Of course, there are caveats to making your own face mask. Making your own face mask, while cost effective, can be time-consuming without the right tools. A key benefit of a home-made face mask, however, is that they can be washed and used again, providing that you use a washable fabric. There are many guides online on how to make a face covering from an old t-shirt, cloth handkerchief or any miscellaneous fabric. A final important point about home-made face masks is that there is no testing in place to ensure that the masks made at home are effective at blocking out certain particles, such as viruses and bacteria. Though, they are generally adequate at blocking out dust, pollen and other larger particles.
Will a scarf be effective as a face mask?
Wearing a scarf over the nose and mouth during winter can benefit those with respiratory issues which are triggered by the brisk winter air, such as asthma. Depending on the material the scarf is made from will
Buy face masks online
You can buy face masks online from Prescription Doctor. We offer high quality KN95 face masks, which block out 95% of particulate matter in the air, as well as surgical masks. All orders approved before 3pm are dispatched via a next-day delivery service to ensure you get them as soon as possible.
Wearing a face mask of some type does take some getting used to, and it may not be comfortable initially. This is why it is useful to ensure you only wear your mask when it is necessary to ensure that you can wear it for long enough when you do need to go outside or come into contact with others.
What To Remember
The true efficacy of surgical masks when it comes to preventing the spread of coronavirus is still being determined. Although some masks are clearly much more effective than others, there are still some rules to remember when wearing them in order to get the most out of them. The rules include:
Only leaving your home when necessary, be it for work, to gather shopping supplies, or for exercise. As life starts to get back to normal – or as close to normal as possible – there will be more opportunities to leave home. Offices will reopen, and there will be more chance to exercise, for example. It is then that masks may well become much more important in order to prevent a second wave of the virus and any additional lockdown time.
Staying two metres away from others. If you can stay two metres away from other people when you are out (other than those who are living with you) then this will also help to slow and even prevent the spread of the disease. This combined with the mask is good advice. Wearing a mask will not make you automatically immune to coronavirus, and care must still be taken – don't put yourself in a dangerous situation that should be avoided.
The WHO, for example, suggests that a mask only need to be worn if you are taking care of someone with COVID-19, or if you have symptoms. Masks need to be used alongside other measures such as frequent hand washing. The British Government's advice falls broadly in line with this.
There is a lot of conflicting advice regarding face masks and whether they should be worn, or even if they are of any use. The UK government is advising against the public buying FFP3 face masks as they are required by hospital staff on the front line. Instead, the public are advised to wear N95/FFP2 or to make their own face covering to prevent using up precious stocks of PPE for healthcare workers.